GLOBAL CHALLENGES IN MOUNTAIN AGROPASTORAL SYSTEMS
Siamo lieti di annunciare la conferenza finale del progetto LIFE PASTORALP "GLOBAL CHALLENGES IN MOUNTAIN AGROPASTORAL SYSTEMS – Scientific evidence on impacts, adaptation and policies", che ha l'obiettivo di riunire ricercatori, responsabili politici, tecnici dell'agricoltura e della divulgazione, agricoltori e studenti per condividere e discutere le questioni attuali ed emergenti relative agli impatti dei cambiamenti climatici sui sistemi agropastorali di montagna. Il dibattito su questi temi, ospitato nel cuore delle Alpi, sarà favorito da esperienze provenienti da tutta Europa e dagli ambienti montani e darà vita a nuove idee e proposte da diffondere e condividere a livello globale.
---
Dove e quando:
📍Forte di Bard, Bard, Valle d'Aosta (dove dormire a Bard e dintorni)
📅 15-16-17 Marzo 2023
⏰ Presto online il modulo di registrazione
---
Programma (in corso di definizione)
Giorno 1 (15/03/2023) – Apertura della conferenza, keynote talk e discussione con i responsabili politici e le parti interessate
Carolina Adler – Executive Director Mountain Research Initiative, Lead Author for the Intergovernmental Panel on Climate Change (IPCC)
Maria Luisa Paracchini – Sustainable Resources – European Commission Joint Research Centre
da definire
Giorno 2 (16/03/2023) – Conferenza scientifica
Giorno 3 (17/03/2023) – Attività di networking, su invito
---
Topics della Conferenza:
🔎 Challenges and opportunities for mapping and modelling agropastoral systems
Mapping grasslands and agropastoral systems has become undoubtedly pivotal for global change studies, natural resource monitoring and management, desertification evaluation and or loss of biodiversity. Moreover, the abandonment of marginal land in combination with shrub encroachment and climate changes are critical factors in the continuing decline of Europe's species-rich of semi-natural grassland habitats. Traditional mapping methods are time consuming and very costly, hence, alternative approaches (such as modelling, remote sensing products, machine learning) are becoming increasingly important to map changes in pastoral systems and detect mowing and grazing practices. This session welcomes studies analysing challenges and opportunities of using innovative approaches to model and map grasslands and pastoral systems.
🔎 Climate change impacts, adaptation and mitigation
As climate change continues, and climate extremes such as droughts, heatwaves, and intense precipitation increase, it is important to advance our understanding of their impacts on ecosystem structure and function. Natural and managed ecosystems, such as mountain pastures, have indeed the potential to face future climate change challenges if preserved and sustainably managed. This session focuses on observational, experimental and modeling studies related to climate change impacts on mountain grasslands, pastures and other agropastoral systems. We also welcome studies investigating the role of agropastoral systems for adaptation and mitigation opportunities in mountain areas.
🔎 Governance under global changes: the interface between policy and science
The science-policy interface presents several challenges to both scientists and policy-makers, however, the growing severity of challenges imposed by climate change, and the policies needed to face them, implies that more frequent collaborations between scientists and policymakers are crucial. This session welcomes studies or experiences at the interface between policy and science in the context of mountain agropastoral systems, including the definition of adaptation or mitigation strategies or plans. The session aims also at describing the current gaps, challenges, skills and strategies facilitating the uptake of scientific knowledge in policy formulation and implementation.
---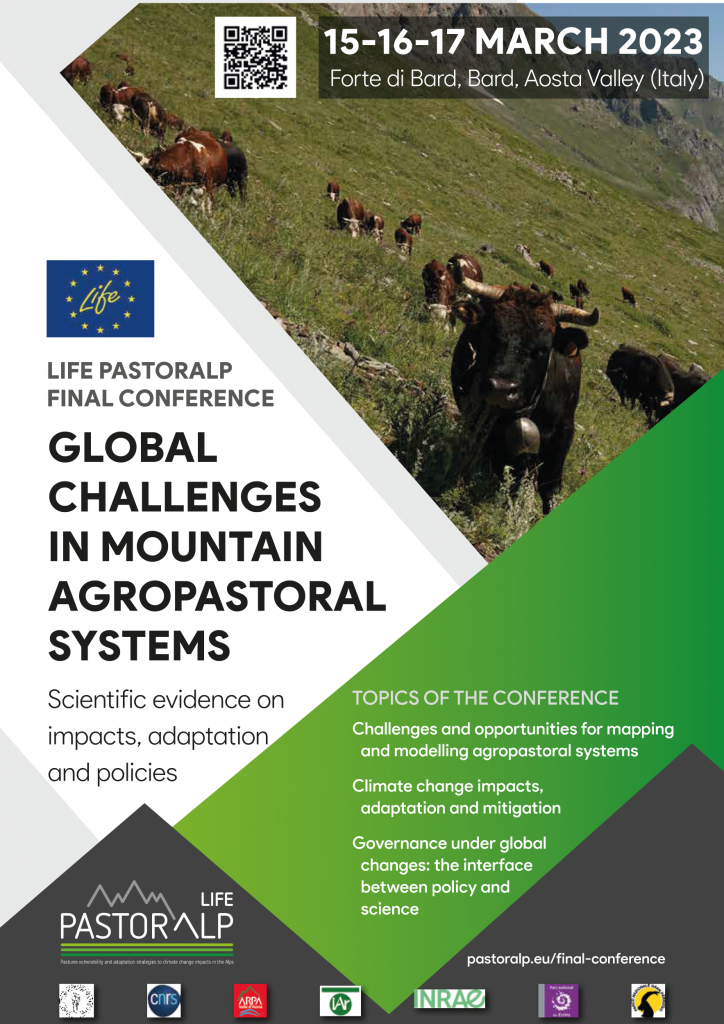 Abstract
I sistemi agropastorali di montagna stanno affrontando sfide globali (cambiamenti climatici, di uso del suolo e cambiamenti sociali) alle quali gli scienziati devono rispondere. La conferenza finale di LIFE PASTORALP, intitolata "GLOBAL CHALLENGES IN THE MOUNTAIN AGROPASTORAL SYSTEMS – Scientific evidence on impacts, adaptation and policies", offrirà l'opportunità di riunire i rappresentanti del settore (scienziati, responsabili politici, tecnici e parti interessate), provenienti sia dalle aree di studio PASTORALP sia da altre regioni alpine e montane, per presentare e discutere le principali questioni biofisiche, sociali e di governance legate al clima che interessano i sistemi agropastorali in ambiente montano. Ciò darà la possibilità di scambiare opinioni e di acquisire conoscenze scientifiche su questi temi, aprendo la strada ad azioni e sinergie future per una transizione sostenibile dal punto di vista ambientale ed economico.
---
Abstract submission
L'abstract dovrà avere una lunghezza massima di 3000 battute (spazi compresi), dovrà esssere scritto in inglese ed essere inviato in formato .docx. Per scrivere l'abstract, si prega di fare riferimento al seguente template
La deadline per la presentazione degli abstract è il 16 dicembre 2022
---
Comitato Scientifico
---
Vincenzo Angileri, JRC
Giovanni Argenti, UNIFI
Isabella Arpin, INRAE
Bruno Bassano, PNGP
Mauro Bassignana, IAR
Gianni Bellocchi, INRAE
Joël Bérard, AGROSCOPE
Marco Bindi, UNIFI
Richard Bonet, PNE
Luca Colombo, FIRAB
Philippe Choler, CNRS
Edoardo Cremonese, ARPA VDA
Murielle Della Vedova, PNE
Camilla Dibari, UNIFI
Gianluca Filippa, ARPA VDA
Marta Galvagno, ARPA VDA
Sandra Lavorel, CNRS
Giampiero Lombardi, UNITO
Claude Napoleone, INRAE
Giovanna Seddaiu, UNISS
Consolata Siniscalco, UNITO
Comitato Organizzativo
---
Emmanuelle Brancaz, PNE
Camilla Dibari, UNIFI
Marta Galvagno, ARPA VDA
Silvia Ghidotti, PNGP
Anais Piccot, IAR
Laura Stendardi ,UNIFI
Roger Tonetti, ARPA VDA
Ramona Viterbi, PNGP