GLOBAL CHALLENGES IN MOUNTAIN AGROPASTORAL SYSTEMS
We are very glad to announce the LIFE PASTORALP final conference "GLOBAL CHALLENGES IN MOUNTAIN AGROPASTORAL SYSTEMS – Scientific evidence on impacts, adaptation and policies", which aims at bringing together researchers, policy makers, agriculture and extension technicians, farmers and students to share and discuss current and emerging issues related to climate-driven global changes in mountain agropastoral systems. The debate on these issues, hosted in the heart of the Alps, will be fostered by experiences from all Europe and mountain environments and will give rise to new ideas and proposals to be spread and shared globally.
---
Where and when
📍Forte di Bard, Bard, Aosta Valley (Italy)
📅 15-16-17 March 2023
---
Topics of the scientific conference:
🔎 Challenges and opportunities for mapping and modelling agropastoral systems
🔎 Climate change impacts, adaptation and mitigation
🔎 Governance under global changes: the interface between policy and science
---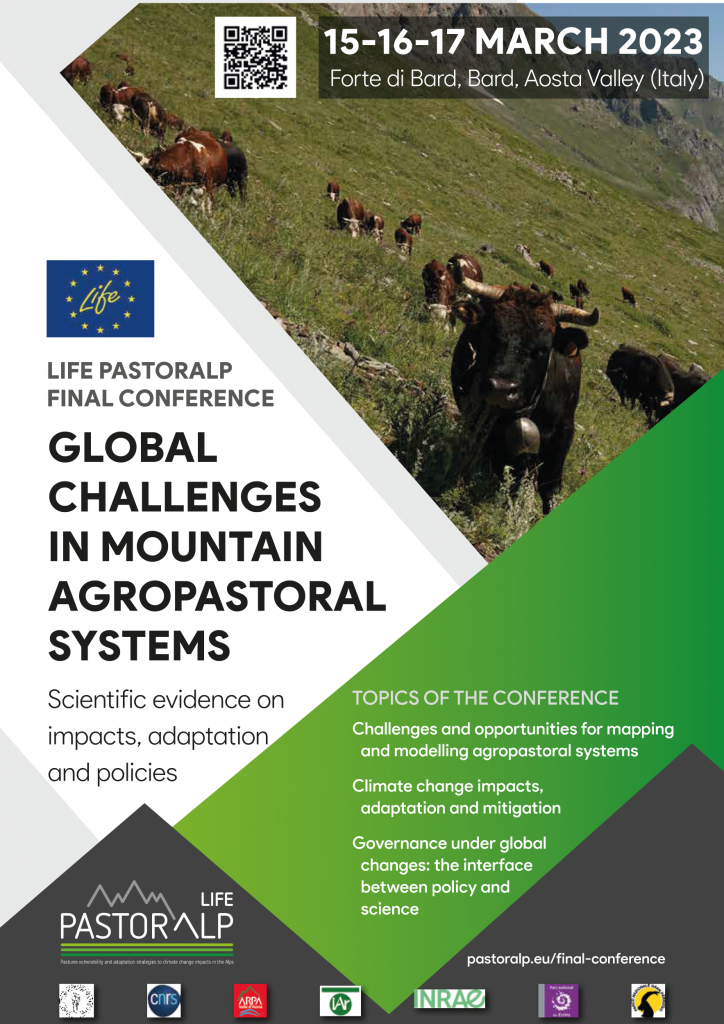 Abstract
Mountain agropastoral systems are facing global challenges (climate change, land use and societal changes) to which scientists need to respond. The LIFE PASTORALP final conference entitled "Climate-driven global challenges in the mountain agropastoral systems" will give the opportunity to gather relevant representatives (scientists, policy makers, technicians and stakeholders), coming from both PASTORALP study areas and other alpine and mountain regions, to present and discuss the utmost climate related biophysical, social and governance issues affecting agropastoral systems in mountain environments. This will give the chance to exchange opinions and to gain science-based knowledge on these topics, paving the path for future actions and synergies for an environmental and economic sustainable transition.
---
Scientific Committee
---
Vincenzo Angileri, JRC
Giovanni Argenti, UNIFI
Isabella Arpin, INRAE
Bruno Bassano, PNGP
Mauro Bassignana, IAR
Gianni Bellocchi, INRAE
Joël Bérard, AGROSCOPE
Marco Bindi, UNIFI
Richard Bonet, PNE
Philippe Choler, CNRS
Edoardo Cremonese, ARPA VDA
Murielle Della Vedova, PNE
Camilla Dibari, UNIFI
Gianluca Filippa, ARPA VDA
Marta Galvagno, ARPA VDA
Sandra Lavorel, CNRS
Giampiero Lombardi, UNITO
Claude Napoleone, INRAE
Giovanna Seddaiu, UNISS
Consolata Siniscalco, UNITO
Organizing Committee
---
Emmanuelle Brancaz, PNE
Camilla Dibari, UNIFI
Marta Galvagno, ARPA VDA
Silvia Ghidotti, PNGP
Anais Piccot, IAR
Laura Stendardi ,UNIFI
Roger Tonetti, ARPA VDA
Ramona Viterbi, PNGP
---

Call for abstract will be launched in September 2022